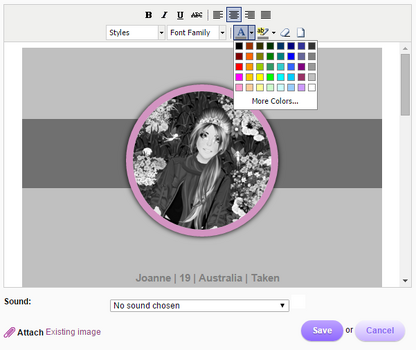 Presentations are located on a users profile, directly below their suite. Users typically design their presentations with background colour, text colour, images of different sizes and information about themselves. Presentations are similar to an 'about me' section, and are used to showcase who they are and can include information such as name, age, country, likes and dislikes, hobbies, and anything they're passionate about. Some users use this as a way to get votes for different competitions, such as Covergirl, and others use it as a way to showcase their various designs (such as wigs, clothing, interior and jewelry).
The presentation editor is very basic and only provides a small amount of creativity, so many users use custom templates made by others to enhance the design of their presentation and add elements that are not customisable in the main editing frame. This is typically just lines of code such as HTML and CSS that can be copied and pasted.
When saved, the presentation looks a lot different to a typical edited version.
Charly's Presentations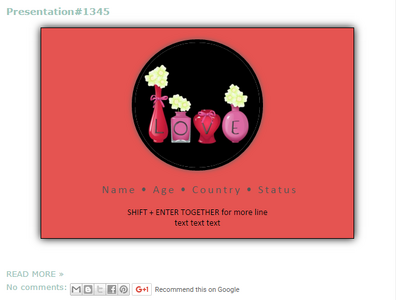 If a user is looking for more creativity in their presentation,
Charly's blog
(dedicated to Stardoll presentations) is a popular visit by users. Browsing the website, a Stardoll user can choose their favourite design and copy and paste the HTML code straight into the profile editor. This alters the entire design, and all that's left for the user to do, is to type in their information. Although this is not the conventional way of creating presentations, it does not break any of Stardoll's One Stop Rules, and is perfectly safe to use.