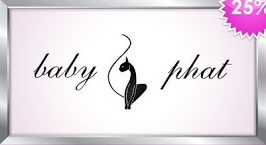 Baby Phat was a real brand store released in the Starplaza on October 2nd 2009, featuring clothing as well as jewelry. The collection was originally designed by Kimora Lee Simons, and included a total of 34 items. 5 special pieces of hidden jewelry were also included, with some of them being released as Hot Buys. Each item is only available for purchase through the Starbazaar since its discontinuation in June 2011.
Items and Prices
Ad blocker interference detected!
Wikia is a free-to-use site that makes money from advertising. We have a modified experience for viewers using ad blockers

Wikia is not accessible if you've made further modifications. Remove the custom ad blocker rule(s) and the page will load as expected.